Ocean projects
Register for Youth Advocacy Training!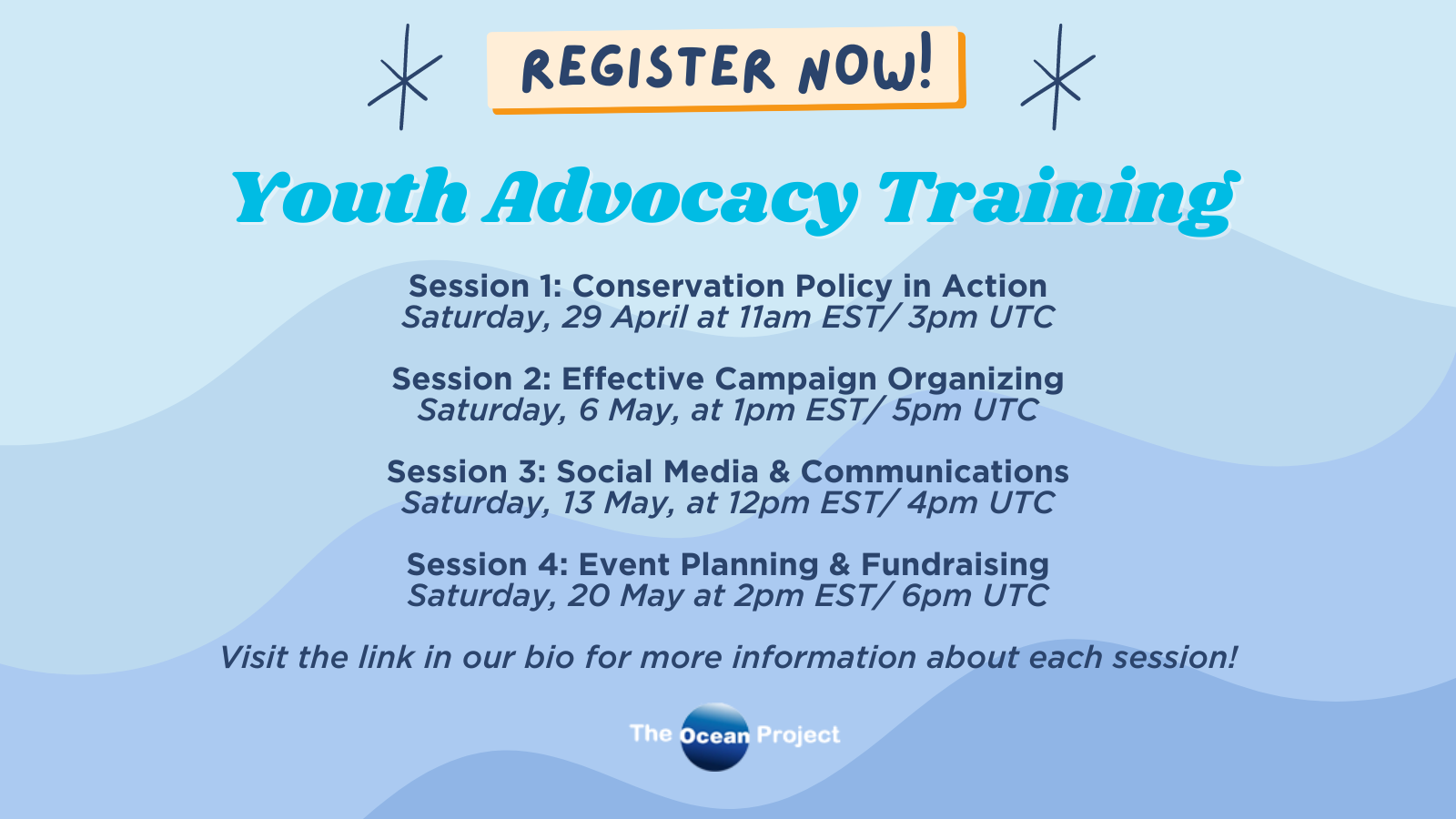 About the Program
Please note: You must register for all 4 sessions individually.
Session 1: Conservation Policy in Action
At 11am EST/ 3pm UTC on Saturday, 29 April
Featuring speakers Claudia Munoz-Colon, OceanEcho Fellow, and students from the 30×30 Illinois Conservation Task Force
Participants will learn from youth leaders from several different regions, as they share their personal experiences while working to implement a 30×30-related project. Using these case studies as examples, participants will learn how to collaborate with community members to identify and implement creative solutions to conservation issues, and how to scale up their projects, building momentum off of collective action.
Session 2: Effective Campaign Organizing
At 1pm EST/ 5pm UTC on Saturday, 6 May
Featuring speaker Joe Wilkins – Ecologist, Nature Campaigner, & World Ocean Day Youth Advisory Council Alum
Session 2 will build off of the foundations set in Session 1, and turn our focus towards what it means to be an effective advocate. In this session, participants will reflect on their individual purpose, and connect to their conservation passions. With the help of an expert capacity-building organizer, participants will develop a strong conservation "why" to help refine the who, what, where, and how of their projects.
Session 3: Social Media & Communications
At 12pm EST/ 4pm UTC on Saturday, 13 May
Featuring speaker Kate Sutter – Community Engagement Manager, World Ocean Day
Session 3 begins to cover more of the technical skills needed for successful conservation communication. This session will focus on science communication and the importance of proper messaging, and how to formulate calls-to-action for social media, op-eds, letters, and other types of communication.
Session 4: Event Planning & Fundraising
At 2pm EST/ 6pm UTC on Saturday, 20 May
Featuring speaker Samantha Gibb – Senior Programs Manager, World Ocean Day
Session 4 will explore the basics of what it takes to pull together a conservation event. This session will cover all things organizing; From recruiting the right people to your team, where to look for funding and how to get it, how to engage with your community for a lasting impact, and more.
We encourage candidates to attend all four sessions to get the full benefit of the training. We ask anyone registering to prioritize attending the sessions live, but session recordings will be publicly available one day after each session. The content of the program is designed for young people ages 15-21, but anyone of any age may attend.
Please forward this to your network if you know anyone who might be interested, and contact us if you have any questions!
To learn more about The Ocean Project Youth Initiative, click here.
Services Marketplace – Listings, Bookings & Reviews