Ocean projects
Previewing AZA 2021 – Sessions on Engaging the Public and Advancing Conservation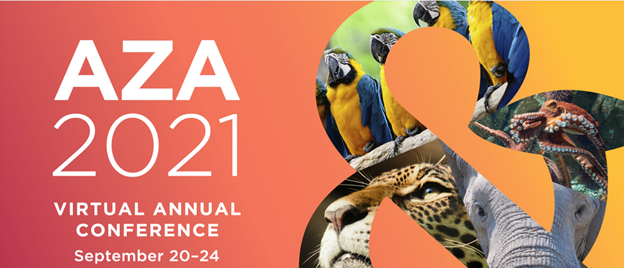 During the September edition of our First Friday Webinar Series we previewed some of the most exciting sessions on engaging the public and advancing conservation that will be part of the upcoming Annual Conference of the Association of Zoos and Aquariums, which will take place online from September 20-24.
Cheryl Andrews, Director of Conferences at AZA, joined us to jumpstart the conversation, providing a quick conference overview of the event, and encouraging everyone to register! Next, we welcomed various session organizers, who are covering some of the most important topics impacting efforts aimed at advancing conservation, from understanding the role of empathy to collaborating with youth leaders to exploring the future of virtual engagement, as well as opportunities to become involved with ongoing campaigns.
Becky Bingham, Special Projects and Event Production at the Seattle Aquarium, previewed, "Looking to the Future of Virtual Engagement" (Sept. 20 12:30-2:00 ET)
Stephanie Joseph, Curator of Education, New York Aquarium/WCS, discussed "Level Up Your Impact: Lessons from Youth Leaders," which also will feature The Ocean Project's own Baylee Ritter, Strategic Advisor for the Youth Initiative (Also on Sept. 20 12:30-2:00 ET)
Daniel Rother, Empathy Network Specialist at the Woodland Park Zoo spoke to, "Advancing Conservation Through Empathy for Wildlife: Your Next Step On Your Empathy Journey" (Sept. 20, 4:00-4:45 ET)
And last but not least Douglas Meyer, host of the webinar and Strategic Advisor to The Ocean Project flagged, "Engaging the Public, Informing Policymakers, Advancing Conservation and Achieving 30×30," based on the efforts of a working group comprised of Frost Science, National Aquarium, New England Aquarium, Philadelphia Zoo San Diego Zoo Wildlife Alliance and Seattle Aquarium that is collaborating with AZA, as well as the Aquarium Conservation Partnership and the National Ocean Protection Coalition (Sept. 23 12:30-2:00 ET)
A few additional sessions also were highlighted, with appreciation for the quantity and quality of sessions at this year's conference that will touch on this topic in one way or another, whether raising public awareness, encouraging public involvement, or informing policymakers.
"Turning the Tide on Climate Change: Organizing a Joint Aquarium Commitment" (Sept. 20, 4:00-4:45 ET)
"How To Create Behavior Change Through Community-Based Conservation" (Sept. 21, 2:30-3:30 ET – Roundtable Discussion)
"Engaging Programming is Not Conservation Engagement: Involving People in Meaningful Conservation Action" ( 22, 12:30-2:00 ET)
"What is the New Normal in Events?" (Sept. 22, 4:00-4:45 ET)
"Virtual is Here to Stay: Reaching and Retaining New Audiences" ( 25, 12:30-2:00 ET)
"Conversations in Environmental Justice & Civic Engagement" (Sept. 25, 12:30-2:00 ET)
"We're a Conservation Organization, Too: Ways AZA Members Communicate Their Conservation Efforts to the Public" (Sept. 25, 12:30-2:00 ET)
Looking for more? See the full conference schedule.
With this edition of the webinar series falling upon the Friday before the long Labor Day Weekend, we know that many of you are likely to have come to this blog looking for a link to the recording and that can be found here.
Thanks again to our speakers, and looking forward to seeing everyone online at the conference!
Also, make sure to check out the virtual annual conference of the World Association of Zoos and Aquariums, in October!