Ocean projects
180 zoos, aquariums, and museums from all 50 states sign in support of 30×30 and America the Beautiful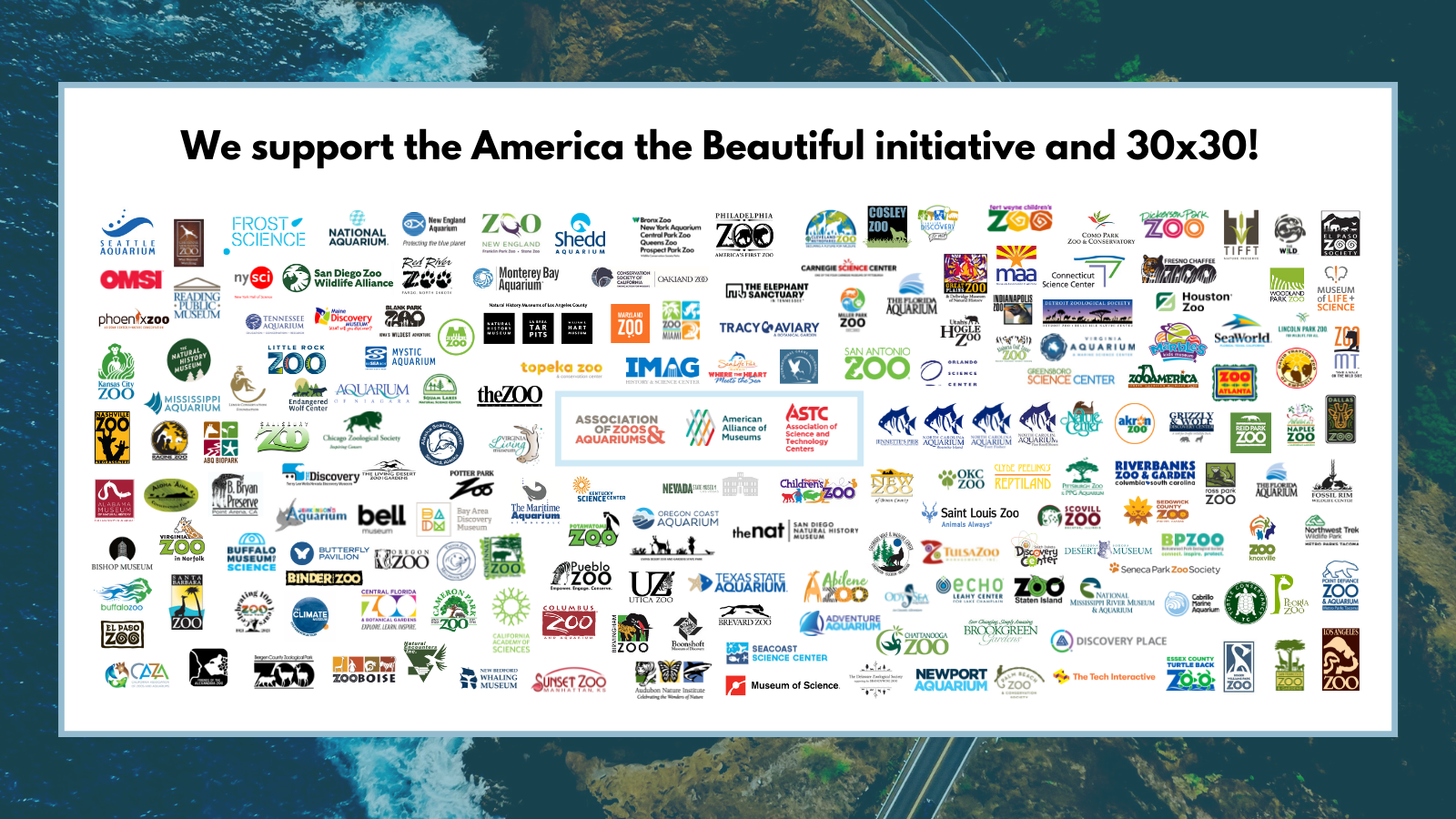 In an unprecedented show of support for conservation, more than 180 zoos, aquariums and museums (ZAMs) from communities in all 50 states recently signed on to a letter of support for the Biden Administration's America the Beautiful Initiative, and specifically the incorporated commitment to protect 30% of nature – lands, waters and ocean – by 2030 ("30×30").
Earlier this year, the Departments of the Interior, Agriculture, and Commerce, in cooperation with the White House Council on Environmental Quality, released a report, Conserving and Restoring America the Beautiful, which calls for a decade-long effort to advance locally-led and voluntary conservation and restoration efforts in public, private, and tribal lands and waters. It adopts the 30×30 goal, which polling indicates is supported by 85% of Americans.
As part of our mission to catalyze and support collaborative action for conservation in partnership with ZAMs, The Ocean Project have been collaborating for many years with the Association of Zoos and Aquariums (AZA). This year we have also been collaborating more closely with the American Alliance of Museums (AAM) and the Association of Science and Technology Centers (ASTC), and together with these three major associations, we circulated the letter to directors and senior staff. Following the annual AZA conference, Dan Ashe, President and CEO of AZA, sent the letter to directors of member zoos and aquariums and shortly after the annual ASTC conference, Christofer Nelson, President and CEO, also sent a letter to member museums.
With AZA, ASTC and AAM signing on to the letter, along with 180 ZAMs, the community sent a strong signal of unity and support for conserving at 30% of the lands, waters, and ocean of "America the Beautiful." The letter clearly conveys the critical importance of advancing conservation, addressing the climate crisis, and increasing access to nature, as well as the essential role that ZAMs play in local communities and has been delivered to contacts in the Department of Interior, Department of Commerce and NOAA, Department of Agriculture and the Council of Environmental Quality and the Office of Science and Technology Policy, both within the Executive Office of the President and will soon be circulated on Capitol Hill.
Highly trusted by the public and with approximately 200 million annual visitors, ZAMs are trusted conduits to local communities. They are also sources of expertise, especially important as the discussion starts to shift from concept to implementation. As they continue to evolve their missions, ZAMs have an uniquely important role to play in helping advance the movement for 30×30. As two of the key national leaders of the 30×30 movement have noted:
"The zoo, museum, and aquarium community are conservation leaders in the U.S., and their unique and valuable position at the intersection of public education, community engagement and leadership, and scientific research makes them powerful voices in helping to shape the first ever national conservation goal and advance America the Beautiful." – Amy Kenney, National Ocean Protection Coalition (includes dozens of diverse groups representing national, regional, and local perspectives across the country)
"The Biden Administration has announced a bold goal through its America the Beautiful initiative, but important questions still remain about how the effort will be implemented. Getting this right will require engagement and input from as many constituencies and conservation leaders as possible. The zoo, aquarium, and museum community is in the perfect position to provide the Administration and other national leaders with exactly the type of support, expertise, and guidance needed to ensure that 30×30 effort is a success in the United States." – Michael Degnan, Deputy Director, Campaign for Nature (a partnership of the Wyss Campaign for Nature, National Geographic Society, and a growing coalition of more than 100 conservation organizations around the world)
Over the last several months, The Ocean Project has been coordinating a working group of ZAMs that, along with a team of expert advisors, to help us collaboratively raise public awareness, document public opinion, and inform policymakers in support of 30×30. The 30×30 Working Group has identified and developed a set of tools and resources for all to adapt and use as they wish, including the essential background on 30×30, a messaging kit, poster and postcard templates, draft op-eds, and an online action platform, with more to come. You can find all of these and more at https://theoceanproject.org/30×30.
We are currently working with ZAMs to leverage their commitment to conservation, and take advantage of the opportunity with the public comment period NOAA has opened thru Dec 28, 2021 as well as an expected upcoming public comment period with the Department of the Interior.
As we move into 2022, we are keeping the sign-on process open for additional ZAMs to show their support and will send an updated letter to the administration. If you are interested in signing on, please click here.
Please see the current list of signatories below and let us know if you have any questions or suggestions for generating further engagement.
Thank you to the following conservation leaders for signing on to the letter of support:
Abilene Zoo
ABQ BioPark
Adventure Aquarium
Akron Zoo
Alabama Gulf Coast Zoo
Alabama Museum of Natural History
Alaska SeaLife Center
Aquarium of Niagara
Arizona Center for Nature Conservation / Phoenix Zoo
Arizona-Sonora Desert Museum
Audubon Nature Institute
B Bryan Preserve
Bay Area Discovery Museum
Bell Museum
Bergen County Zoo
Binder Park Zoo
Birmingham Zoo
Bishop Museum
Blank Park Zoo
Brevard Zoo
Brookgreen Gardens
Buffalo Museum of Science
Buffalo Zoo
Butterfly Pavilion
Buttonwood Park Zoological Society
Cabrillo Marine Aquarium
California Academy of Sciences
California Association of Zoos and Aquariums
Cameron Park Zoo
Carnegie Science Center
Central Florida Zoo & Botanical Gardens
Chattanooga Zoo
Cheyenne Mountain Zoo
Chicago Zoological Society
Cincinnati Zoo & Botanical Garden
Cleveland Metroparks Zoo
Clyde Peeling's Reptiland
Colorado Wolf and Wildlife Center
Columbus Zoo and Aquarium
Como Park Zoo and Conservatory
Connecticut Science Center
Conservation Society of California / Oakland Zoo
Cosley Zoo
Dallas Zoo
Dayton Society of Natural History
Delaware Zoological Society
Detroit Zoological Society
Dickerson Park Zoo
Discovery Place
ECHO, Leahy Center for Lake Champlain
El Paso Zoo and Botanical Gardens
El Paso Zoological Society
Endangered Wolf Center
Essex County Turtle Back Zoo
Fort Wayne Children's Zoo
Fossil Rim Wildlife Center
Fresno Chaffee Zoo
Friends of the Alexandria Zoo
Frost Science
Great Plains Zoo
Greensboro Science Center
Grizzly &Wolf Discovery Center
Honolulu Zoo
Houston Zoo
IMAG History & Science Center
Indianapolis Zoo
International Crane Foundation
Jenkinson's Aquarium
Kansas City Zoo
Kentucky Science Center
Lemur Conservation Foundation
Lincoln Park Zoo
Little Rock Zoo
Living Desert Zoo and Gardens State Park
Los Angeles Zoo & Botanical Gardens
Louisville Zoological Gardens
Maine Discovery Museum
Marbles Kids Museum
Maryland Zoo in Baltimore
Memphis Zoo
Miller Park Zoo
Mississippi Aquarium
Monterey Bay Aquarium
Museum Association of Arizona
Museum of Science, Boston
Mystic Aquarium
Naples Zoo
Nashville Zoo
National Aquarium
National Mississippi River Museum & Aquarium
Natural Encounters, Inc.
Natural History Museums of Los Angeles County
Nevada State Museum Las Vegas
New Bedford Whaling Museum
New England Aquarium
New York Hall of Science
Newport Aquarium
North Carolina Aquarium at Fort Fisher
North Carolina Aquarium at Jennette's Pier
North Carolina Aquarium at Pine Knoll Shores
North Carolina Aquarium on Roanoke Island
North Carolina Museum of Life and Science
Northeastern Wisconsin Zoo
Northwest Trek Wildlife Park
OdySea Aquarium
Oklahoma City Zoo
Oregon Coast Aquarium
Oregon Museum of Science and Industry
Oregon Zoo
Orlando Science Center
Palm Beach Zoo
Peoria Zoo
Philadelphia Zoo
Pittsburgh Zoo & PPG Aquarium
Point Defiance Zoo & Aquarium
Potawatomi Zoo
Potter Park Zoo
Pueblo Zoo
Racine Zoological Society, Inc (Racine Zoo)
Reading Public Museum
Red River Zoo
Reid Park Zoo
Riverbanks Zoo & Garden
Riverside Discovery Center
Roger Williams Park Zoo
Saginaw Children's Zoo
Saint Louis Zoo
Salisbury Zoo
San Antonio Zoo
San Diego Natural History Museum
San Diego Zoo Wildlife Alliance
San Francisco Zoo
Santa Barbara Zoo
Scovill Zoo
Sea Life Park
Seacoast Science Center
Seattle Aquarium
SeaWorld Parks
Sedgwick County Zoo
Seneca Park Zoo Society
Shedd Aquarium
South Dakota Discovery Center
Southern Tier Zoological Society/Ross Park Zoo
Squam Lakes Natural Science Center
Staten Island Zoo
Sunset zoo
Tennessee Aquarium
Terry Lee Wells Nevada Discovery Museum
Texas State Aquarium
The Climate Museum
The David Traylor Zoo of Emporia
The Elephant Sanctuary in Tennessee
The Florida Aquarium
The Living Desert Zoo and Gardens
The Maritime Aquarium
The Natural History Museum
The Tech Interactive
The Wild Center
Thompson Park Conservancy/ZooNew York
Tifft Nature Preserve
Topeka Zoo and Conservation Center
Tracy Aviary
Trevor Zoo at Millbrook School
Tulsa Zoo Management, Inc.
Turtle Conservancy
Utah's Hogle Zoo
Utica Zoo
Virginia Aquarium & Marine Science Center
Virginia Living Museum
Virginia Zoo
Western North Carolina Nature Center
Wildlife Conservation Society
Woodland Park Zoo
Zoo Atlanta
Zoo Boise
Zoo Knoxville
Zoo Miami
Zoo New England: Franklin Park Zoo & Stone Zoo
ZooAmerica Wildlife Park
ZooMontana